2017 | OriginalPaper | Buchkapitel
Proposal of a Multi-method Decision Support System for the Fashion Retail Industry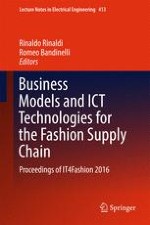 Erstes Kapitel lesen
Autoren: Giada Martino, Marcello Fera, Raffaele Iannone, Salvatore Miranda
Abstract
Fashion and Apparel (F&A) market, characterized by fast changes in trends and demand, by short product life-cycles and by broad assortments, requires a responsive/demand driven Supply Chain (SC) focused on products availability, real-time information sharing and speed in matching customers requests (Iannone et al.
2013
). In this context, the presented paper shows the results of a three-year research project by firstly analysing the overall structure and characteristics of a traditional SC in this sector Iannone et al. (
2015
) in order to identify the most critical aspects and processes. From a risk analysis it emerged that the correct Time Management, intended as the ability of being responsive to market fluctuation, is the most critical target for fashion business. In this context, the presented work proposes a reference framework for the definition and subsequent optimisation of the physical and informative flows, which is based on a deviation analysis of demand and an adjusting feedback loop. In last years, the wide spread of e-commerce and mobile purchasing is deeply changing the retailing industry leading companied to adopt a new integrated strategy, called Omni-Channel Retailing. The management of both physical and mobile channels not simply means managing an additional on-line demand but requires the actual integration of all the processes of planning and execution in order to optimize performances. With these perspectives, the proposed framework has been revised and extended in order to represent a company implementing this new strategy and, after the definition of a suitable set of Key Performance Indicators (KPIs), allowed us to evaluate how it may impact on the performances of a traditional SC. The integration of all these analysis and the correct evaluation of the defined set of KPIs may represent a useful system for supporting fashion companies in the strategic decision making process.