08.01.2020 | Ausgabe 4/2020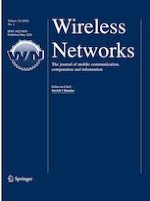 ProRec: a unified content caching and replacement framework for mobile edge computing
Zeitschrift:
Autoren:

Peiyan Yuan, Yunyun Cai, Yihang Liu, Junna Zhang, Yali Wang, Xiaoyan Zhao
Wichtige Hinweise
Publisher's Note
Springer Nature remains neutral with regard to jurisdictional claims in published maps and institutional affiliations.
Abstract
In this paper, we investigate the content deployment problem from precaching and device-to-device communication perspectives. In the precaching stage, contents are prefetched and stored in edge nodes to be quickly provided to end users. In the device-to-device communication process, intermediate nodes face a dilemma in deciding whether to cache contents coming from or going to neighboring nodes to accelerate the content delivery. We call the former proactive caching and the latter reactive caching. We then design ProRec, a unified caching framework, by jointly considering the two cases with the goal of maximizing the content hit ratio. ProRec first addresses the optimization problem using the method of Lagrangian multipliers and obtains a general solution to the optimal content copies. Second, a greedy solution, proven to achieve the optimum with a probability of at least
\(1-1/e\)
, is used to cache and replace contents. Finally, an edge computing simulation platform that includes real and synthetic traces is built as a case study to verify the effectiveness of ProRec. The numerical results show that it simultaneously improves the cache hit ratio and content delivery delay.