2016 | OriginalPaper | Buchkapitel Open Access
2. Prospective Models of Society's Future Metabolism: What Industrial Ecology Has to Contribute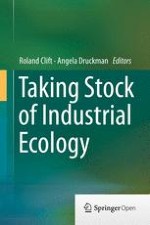 Autoren: Stefan Pauliuk, Edgar G. Hertwich
Abstract
Scientific assessment of sustainable development strategies provides decision-makers with quantitative information about the strategies' potential effect. This assessment is often done by forward-looking or prospective computer models of society's metabolism and the natural environment. Computer models in industrial ecology (IE) have advanced rapidly over the recent years, and now, a new family of prospective models is available to study the potential effect of sustainable development strategies at full scale.
We outline general principles of prospective modeling and describe the current development status of two prospective model types: extended dynamic material flow analysis and THEMIS (Technology-Hybridized Environmental-Economic Model with Integrated Scenarios). These models combine the high level of technological detail known from life-cycle assessment (LCA) and material flow analysis (MFA) with the comprehensiveness of, respectively, dynamic stock models and input/output analysis (I/O). These models are dynamic; they build future scenarios with a time horizon until 2050 and beyond. They were applied to study the potential effect of a wide spectrum of sustainable development strategies, including renewable energy supply, home weatherization, material efficiency, and light-weighting.
We point out future applications and options for model development and discuss the relation between prospective IE models and the related concept consequential LCA (CLCA).
The prospective models for industrial ecology can answer questions that were previously in the exclusive domain of integrated assessment models (IAMs). A debate about the relation between the two model families is necessary.
We find that IAMs have a more comprehensive scope than the prospective IE models, but they often do not obey central IE principles such as the life cycle approach and mass balance consistency. Integrating core IE principles into IAMs would increase the scientific quality and policy relevance of the scenarios of society's future metabolism generated by IAMs, while placing industrial ecology concepts more prominently at the same time. We provide a sketch of what this integration could look like.