01.06.2015 | Ausgabe 3/2015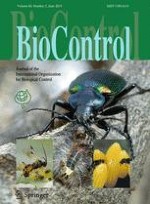 Prospects for the biological control of
Drosophila suzukii
Zeitschrift:
Autoren:

Rosa Gabarra, Jordi Riudavets, Gustavo A. Rodríguez, Juli Pujade-Villar, Judit Arnó
Wichtige Hinweise
Handling Editor: Dirk Babendreier
Abstract
The invasive pest
Drosophila suzukii
(Matsumura) (Diptera: Drosophilidae) causes serious economic damage in several soft fruit crops. This study aimed (1) to identify naturally occurring parasitoids and predators of this pest in North East Spain and (2) to get preliminary data on their potential as pest biological control agents. Two parasitoid species were found spontaneously parasitizing
D. suzukii
:
Pachycrepoideus vindemmiae
(Rondani) (Hymenoptera: Pteromalidae) and
Trichopria
cf.
drosophilae
Perkins (Hymenoptera: Diapriidae). Both species were found repeatedly through the survey period and successfully reproduced in the laboratory on
D. suzukii
pupae. In addition, both species strongly reduced adult emergence of
D. suzukii
from infested fruits. Regarding predators,
Orius laevigatus
(Fieber) (Hemiptera: Antochoridae) were able to feed on
D. suzukii
eggs but not on larvae whereas the soil predator
Labidura riparia
Pallas (Dermaptera: Labiduridae) consumed
D. suzukii
larvae and pupae and was effective in reducing pest populations in laboratory tests.