12.06.2019 | Review Paper | Ausgabe 11/2019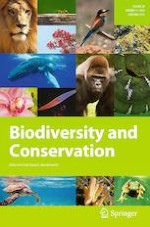 Protecting the Cerrado: where should we direct efforts for the conservation of bat-plant interactions?
Zeitschrift:
Autoren:

H. F. M. Oliveira, N. F. Camargo, Y. Gager, R. L. Muylaert, E. Ramon, R. C. C. Martins
Wichtige Hinweise
Communicated by Melvin Gumal.
Electronic supplementary material
Publisher's Note
Springer Nature remains neutral with regard to jurisdictional claims in published maps and institutional affiliations.
Abstract
Cerrado is a biodiversity hotspot composed of a vegetation mosaic landscape ranging from grasslands to forests. It holds a high endemicity of plants and vertebrate species suffering from high habitat destruction rates. We aimed at characterizing the mutualistic interactions between bats and the plant species present in their diet in the different habitats of the Cerrado to determine which habitats should be prioritized for the conservation of most bat-plant interactions. In order to do that, we assessed two datasets, one covering all interactions between bats and plants in Latin America and the other with the distribution of plant species across the 13 different Cerrado habitats and the Cerrado as a whole. Forests played the major role in the structure of the interactions as they hold the highest number of interactions, with a big percentage being unique to these habitats. The removal of forests in our simulations led to a high dissimilarity of the original structure of the interactions and the extinction of 1/3 of all bat species. Special attention must be given to key habitats such as gallery forests as they not only help connecting the landscape, but also hold a large proportion of the interactions between bats and plants in the Cerrado and play an important role on the network structure between bats and plants in the heterogeneous Cerrado landscapes.