01.08.2016 | Ausgabe 8/2016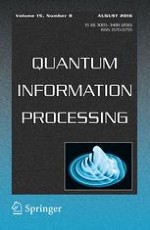 Protecting tripartite entanglement in non-Markovian environments via quantum partially collapsing measurements
Zeitschrift:
Autoren:

Zhi-Yong Ding, Juan He, Liu Ye
Abstract
In this paper, the dynamics of tripartite entanglement via
\(\pi \)
-tangle in independent non-Markovian environments is investigated. The results indicate that the
\(\pi \)
-tangle vanishes periodically as decoherence time increases with a damping of its revival amplitude due to the memory of the non-Markovian environments. In addition, we present a scheme to protect entanglement of W state from non-Markovian environments by means of the quantum partially collapsing measurements. It is worth mentioning that our scheme is a successful protection for the tripartite quantum system and the effect is better for the larger measurement strength, while the stronger decoherence suppression induces smaller success probability.