11.12.2015 | Ausgabe 2/2016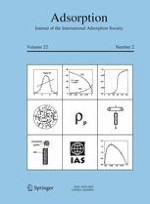 Protein adsorption equilibrium and kinetics in multimodal cation exchange resins
Zeitschrift:
Autoren:

Mimi Zhu, Giorgio Carta
Abstract
Protein adsorption equilibria and kinetics are obtained experimentally for two multimodal cation exchange resins—Nuvia cPrime, which is based on a polymeric matrix, and Capto MMC, which is based on an agarose matrix. In both resins, the ligand contains a phenyl group, a carboxyl group, and a peptide bond but with a different arrangement. Transmission electron microscopy and inverse size exclusion chromatography indicate a bimodal distribution of pores in Nuvia cPrime, including small pores with 10 nm radius and pores larger than 400 nm, and a monodispersed distribution of pores in Capto MMC, averaging 32 nm in radius. Potentiometric titration curves show similar buffering ranges and
pK
a
values for the ligands in both resins and a slightly higher ligand density for Nuvia cPrime. Equilibrium binding capacities for lysozyme and a monoclonal antibody (mAb) are also similar for both resins at comparable pH and salt concentrations, although Capto MMC shows a weaker dependence on salt concentration as a result of its more hydrophobic character. The main difference is the adsorption kinetics of the mAb, which is the larger of the two proteins studied. For both resins, as shown by means of confocal laser scanning miscopy, the adsorption kinetics is controlled by pore diffusion. Capto MMC with its smaller pores has a slower rate of mass transfer than Nuvia cPrime. As a result, for the mAb, much higher column dynamic binding capacities are obtained for Nuvia cPrime than for Capto MMC.