04.01.2017 | Original Contribution | Ausgabe 2/2017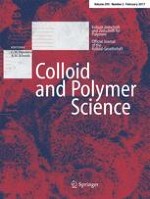 Pseudo-semi interpenetrating polyurethane network based on polyalkylene glycols mixture: improving the physical, mechanical, and thermal properties
Zeitschrift:
Autoren:

Mahdi Amrollahi, Gity Mir Mohamad Sadeghi
Abstract
In this work, non-polar polyol-based polyurethanes (PUs) with improved mechanical properties were synthesized based on the mixture of two different polyols in a soft segment which differed in the average group functionality and number-average molecular weight. The synthesized PUs with different molar compositions of polypropylene glycol and hydroxyl-terminated polybutadiene were comprehensively characterized using FTIR, DMTA, TGA, mechanical analysis, hardness measurement, and swelling test. A normalized structural parameter,
A
, was introduced and the formulations' characteristics were discussed based on variations in
A
. The interesting physical and mechanical properties of polyol mixture-based formulations showed synergetic effects compared to synthesized PUs based on only one polyol. The results revealed that the mechanical properties were optimum in the lowest
A
value. The optimum molar composition was determined at a mole fraction of 25% for HTPB. These synthesized polyurethanes provide superior mechanical properties compared to ether or ester polyols in soft segment.