2018 | OriginalPaper | Buchkapitel
Public Law's Rationalization of the Legal Architecture of Money: What Might Legal Analysis of Money Become?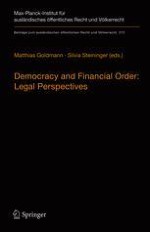 Erstes Kapitel lesen
Autor: Isabel Feichtner
Verlag: Springer Berlin Heidelberg
Abstract
Many of the ills afflicting democratic capitalism have their source in the current legal architecture of money and finance. At the same time the reimagination of institutions of money and finance promise an avenue for reform to democratize the economy and prevent the perpetuation of austerity politics. Such institutional reimagination requires a perspective that recognizes money as an institution linking state and civil society, politics and the economy. Economics in great part eschews such a perspective and perceives of money as a medium of exchange largely independent of government and politics. Legal analysis, by contrast, should be ideally suited for the endeavor to analyse the various ways in which the institutional design of money configures political economy.
To start paving the way for such analysis, I seek to clarify how German public law scholarship has been obstructing a reimagination of monetary design. It has adopted an understanding of money that is informed by economics and on this basis has rationalized the particular legal architecture of money in Germany and in the European Economic and Monetary Union as necessary to protect individual freedom and democratic constitutionalism. Recent practice of the European Central Bank reveals that the strict separation between monetary and economic policy, between money and public finance that characterizes the European Economic and Monetary Union, and its rationalization by legal scholarship and case law cannot be maintained. I argue that a growing body of literature on the political economy of money can inspire a legal analysis that overcomes the current fetishization of the legal architecture of money. This literature provides a starting point for imagining institutions that operationalize monetary sovereignty to serve the public interest and that decrease the hold of private creditors on democratic politics.