04.09.2020 | Research Article | Ausgabe 4/2020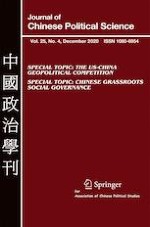 Public Trust as a Driver of State-Grassroots NGO Collaboration in China
Zeitschrift:
Autoren:

May Farid, Chengcheng Song
Wichtige Hinweise
May Farid and Chengcheng Song contributed equally to this work.
Abstract
While the moniker non-governmental organization (NGO) connotes distance from the state, it is widely recognized that civil society in a range of political contexts is in fact characterized by close ties across the public-private divide. Scholars of Chinese social organizations have noted that proximity between the state and NGOs is even more pronounced in the context of China. What is less clear is why this is so. Why do grassroots NGOs overwhelmingly pursue engagement with the state? This paper presents findings that enumerate a number of motivating forces that drive state-NGO collaboration, particularly with respect to small, grassroots NGOs that do not have preexisting ties to elites or to the state. Most notable among these is that NGOs seek engagement with state agencies primarily in order to secure public trust. Public trust is found to be key to the ability of such groups to run programs, mobilize citizens or raise funds. These findings therefore have implications for how we understand the critical role of public support and legitimation—in addition to state control—in the enabling of civil society under authoritarianism.