2018 | OriginalPaper | Buchkapitel
10. Pull-Push Non-local Means with Guided and Burst Filtering Capabilities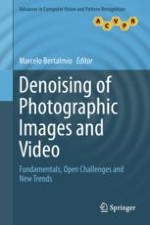 Erstes Kapitel lesen
Autoren: John R. Isidoro, Peyman Milanfar
Abstract
Non-local means filtering (NLM) has cultivated a large amount of work in the computational imaging community due to its ability to use the self-similarity of image patches in order to more accurately filter noisy images. However, non-local means filtering has a computational complexity that is the product of three different factors, namely,
\(O(NPK)\)
, where
K
is the number of filter kernel taps (e.g., search window size),
\(P\)
is the number of taps in the patches used for comparison, and
\(N\)
is number of pixels in the image. We propose a fast approximation of non-local means filtering using the multiscale methodology of the pull-push scattered data interpolation method. By using NLM with a small filter kernel to selectively propagate filtering results and noise variance estimates from fine to coarse scales and back, the process can be used to provide comparable filtering capability to brute force NLM but with algorithmic complexity that is decoupled from the kernel size,
K
. We demonstrate that its denoising capability is comparable to NLM with much larger filter kernels, but at a fraction of the computational cost. In addition to this, we demonstrate extensions to the approach that allows for guided filtering using a reference image as well as motion compensated multi-image burst denoising. The motion compensation technique is notably efficient and effective in this context since it reuses the multiscale patch comparison computations required by the pull-push NLM algorithm.