13.01.2016 | Ausgabe 3/2016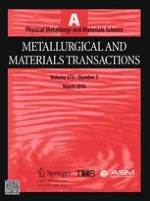 Pulsed Laser Deposition of the Ni-Base Superalloy Films
Zeitschrift:
Autoren:

Joonghan Shin, Jyotirmoy Mazumder
Wichtige Hinweise
Manuscript submitted July 19, 2015.
Abstract
Ni-base superalloy films were deposited on single-crystal (SC) Ni-base superalloy substrates from a target with the same alloy composition by pulsed laser deposition (PLD) technique. Microstructure and growth behavior of the films deposited were investigated by X-ray diffraction and scanning electron microscopy, and atomic force microscope. The homoepitaxial growth of the SC Ni-base superalloy film occurred at the 1123 K (850 °C) substrate temperature and 2 J/cm2 pulse energy. Films generally exhibited a strong polycrystalline characteristic as the substrate temperature and pulse energy increased. The SC film had a smooth surface. The measured root mean square roughness of the SC film surface was ~6 nm. Based on the Taguchi analysis, the substrate temperature and pulse energy were the most significant process parameters influencing the structural characteristics of the films. Also, the influence of the pulse repletion rate and deposition time was not found to be significant.