2015 | OriginalPaper | Buchkapitel
Pulsed Nd:YAG Laser Micro-turning Process of Alumina Ceramics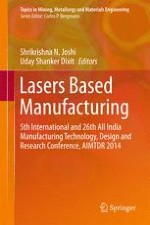 Erstes Kapitel lesen
Autoren: G. Kibria, B. Doloi, B. Bhattacharyya
Verlag: Springer India
Abstract
Laser micro-turning process is one of the new and emerging technologies in the area of laser material processing (LMP) of engineering materials. It is employed for generation of micro-turning surface of particular surface profile and dimensional accuracy on cylindrical workpiece with specific length and depth of turn within tight tolerance. As the process is recently developed micro manufacturing technique, a well planned research study and experimental investigation should be conducted considering various laser micro-turning process parameters. Therefore, various experimental schemes are adapted to study and analysis of significant process parameters on response criteria such as surface roughness and machining depth. A servo controller based fixture is designed and developed indigenously to hold and rotate the cylindrical shaped work samples at various
workpiece rotating speed
. Overlap between two successive spots (i.e.
spot overlap
) and overlap between two successive micro-groove widths (i.e.
circumferential overlap
) play major role for generating quality surface features during laser micro-turning process. Therefore, mathematical formulations of
spot overlap
and
circumferential overlap
are developed for better understanding of the laser micro-turning process and also to study the effects of these overlap factors on performance characteristics. Moreover, attempt has been made to carry out experimental investigation to micro-turn cylindrical shaped engineering ceramics at laser defocus conditions of laser beam. Moreover, comparative study and analyse is performed to explore the effect of focused and defocused conditions of laser beam on surface roughness criteria. SEM micrographs of the laser turned surface captured at various parametric combinations have also been studied for qualitative analysis of the process.