19.01.2016 | Ausgabe 1/2017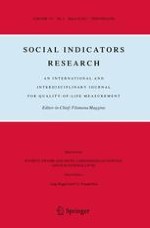 Purchasing Power Parities of Currencies and Real Expenditures from the International Comparison Program: Recent Results and Uses
Zeitschrift:
Autoren:

Nada Hamadeh, Michel Mouyelo-Katoula, Paulus Konijn, Francette Koechlin
Wichtige Hinweise
The views and opinions expressed in this paper are those of the authors and do not reflect the official position of the World Bank, the OECD and Eurostat. The authors are grateful to Morgan Brannon, Mizuki Yamanaka and Marko Rissanen for their input.
Abstract
The International Comparison Program (ICP) is a worldwide statistical initiative designed to estimate purchasing power parities (PPPs) that can be used as currency converters to compare the performance of countries around the world, thereby providing in-depth views of the distribution of resources worldwide. The 2011 round of the ICP was leveraged on the successful outcome of the 2005 round that included 146 countries, introducing various methodological improvements. The summary report and results from the 2011 round were released in April 2014 and provided PPPs, price levels indices, and expenditures in PPP terms for the GDP and major aggregates for 199 participating countries. More detailed results were released in June 2014 and a final comprehensive report in October 2014. The final report provided a more in-depth analysis of volume and per capita indices. The results stirred a strong debate among the user community because of their finding that the world has become more equal than previously thought. The purpose of this paper is to provide an overview of the main results and findings of ICP 2011, its governance framework and partnership with the Eurostat-Organization for Economic Co-operation and Development (OECD) PPP program, and the major methodological innovations that were implemented. The paper reviews the major uses of the PPPs generated by the ICP 2011 and the Eurostat-OECD PPP program, and concludes with thoughts about the future of the ICP.