01.04.2013 | Original Paper | Ausgabe 2/2013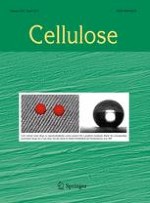 Purification of squirt cellulose membrane from the cystic tunic of
Styela clava

and identification of its osteoconductive effect
Zeitschrift:
Autoren:

Soung Min Kim, Jung Min Park, Tae Yeon Kang, Yeon Sook Kim, Suk Keun Lee
Abstract
The sea squirt has a tunic composed of cellulose fibers that are originated from animal cells and form a cellulose membrane that functions as a protective barrier and a skeleton of body. We purified the squirt cellulose membrane (SCM), about 100 μm thickness, from the cystic tunic of
Styela clava
. The SCM was turned out to be composed of pure native cellulose I in the analyses of X-ray diffraction, attenuated total reflectance Fourier transform-infrared spectroscopy. The inner surface of SCM showed numerous micropores in the meshworks of thin cellulose microfibrils, while the outer surface of SCM showed a few micropores. In order to know the osteoconductive effect of the SCM, it was applied to the perforated rat frontal bone, 8 mm diameter, for 4, 6, 8, 10, 12, and 16 weeks. The mesenchymal cells were tightly adhered to the inner surface of SCM and produced new bone there. The perforations to which the SCM was applied, were completely healed in 10 weeks, while the positive control group applied with the guided tissue regeneration (GTR) material, Bio-Gide
®
showed incomplete healing until 16 weeks. Immunohistochemistry performed on the experimental group showed that BMP-2 and osteonectin were strongly positive in the early stage of bone healing at 4 weeks, while receptor activator of nuclear factor kappa B ligand (RANKL) became positive at 16 weeks. Particularly, the inner surface of SCM itself was consistently positive for the osteogenic proteins, indicating that the implanted SCM can absorb the osteogenic proteins from the stromal matrix of the host tissue. On the other hands, the positive control group implanted with Bio-Gide
®
showed relatively weak reaction of the osteogenic proteins in the perforated bone area during the healing period, and the negative control group implanted none showed poor bony regeneration in the perforated wounds. Taken together, the SCM showed an excellent osteoconductive effect in the perforated rat frontal bone, which was quite comparable to the results of Bio-Gide
®
implantation. Therefore, it is suggested that the SCM be a novel GTR material of a natural source with a strong osteoconductive effect on the injured bone.