2019 | OriginalPaper | Buchkapitel
Putting Decisions in Perspective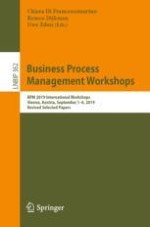 Erstes Kapitel lesen
Autor: Marco Montali
Abstract
The advent of the OMG Decision Model and Notation (DMN) standard has revived interest, both from academia and industry, in decision management and its relationship with business process management. Several techniques and tools for the static analysis of decision models have been brought forward, taking advantage of the trade-off between expressiveness and computational tractability offered by the DMN S-FEEL language.
In this short paper, I argue that
decisions have to be put in perspective
, that is, understood and analyzed within their surrounding organizational boundaries. This brings new challenges that, in turn, require novel, advanced analysis techniques. Using a simple but illustrative example, I consider in particular two relevant settings: decisions interpreted the presence of background, structural knowledge of the domain of interest, and (data-aware) business processes routing process instances based on decisions. Notably, the latter setting is of particular interest in the context of multi-perspective process mining. I report on how we successfully tackled key analysis tasks in both settings, through a balanced combination of conceptual modeling, formal methods, and knowledge representation and reasoning.