23.04.2020 | Ausgabe 6/2020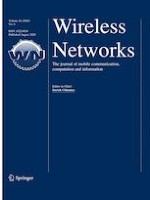 QoS aware and fault tolerant handovers in software defined LTE networks
Zeitschrift:
Autoren:

Anil Kumar Rangisetti, Vanlin Sathya
Wichtige Hinweise
Publisher's Note
Springer Nature remains neutral with regard to jurisdictional claims in published maps and institutional affiliations.
Abstract
In order to handle a huge number of mobile users connections and their requirements like higher throughput, lower delay and seamless mobility, telecom operators have started deploying 4G and 5G technologies. One of the major requirements of 4G and 5G is seamless mobility in high speed mobile networks. Especially in high speed mobile networks sudden groups of handovers can raise sudden handover failures, high traffic load and Quality of Service (QoS) dissatisfaction to users in the network. In this work, these issues are addressed using centralized software defined mobile networks. In particular, to handle sudden traffic load and handover failures due to sudden groups of handovers, we propose an integrated QoS aware prioritized handovers and load balance approach called QoS Aware Fault Tolerant Handovers (QAFT). Unlike existing works, in this work, we are proposing prioritized handovers for Guaranteed Bit Rate (GBR) User Equipments (UEs) over Non-GBR (N-GBR) UEs. Main objectives of our approach are minimizing the effect of N-GBR UEs on GBR UEs during sudden handovers in the network, prevent failures of handovers and distribution of sudden traffic load uniformly across available neighbor cells. In our test scenarios evaluations, it is found that on average prioritized handovers provide 44% higher throughput and 42% reduction in delay to QoS UEs compared to non-prioritized handovers approach. Besides the integration of load balance approach and prioritized handovers in QAFT, it is able to maintain around 80% GBR satisfaction to all network UEs.