2010 | OriginalPaper | Buchkapitel
Quality Evaluation of GOCE Gradients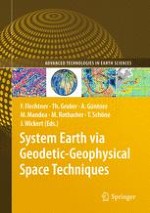 Erstes Kapitel lesen
Autoren: Jürgen Müller, Focke Jarecki, Insa Wolf, Phillip Brieden
Verlag: Springer Berlin Heidelberg
Abstract
Before entering the final gravity field processing, the quality of the GOCE gradients has to be assessed. Here, two procedures are presented, the mutual comparison and analysis of observed gradients in cross-overs and the application of terrestrial gravity data which are upward continued and transformed into reference gradients for the GOCE observations.
The cross-over (XO) approach is an independent relative validation method, i.e., a procedure using GOCE data only. XO analysis allows checking the gravity gradients at the accuracy level expected for GOCE. The developed near real-time validation module shall also be applied during the measurement phase of the GOCE mission, where dedicated quality reports will be provided. Apart from monitoring the general quality of the GOCE gradients, the determination of calibration parameters like trend and periodic components is possible. The general XO idea and some essential features are presented in this chapter.
For external calibration and validation, regional gravity field data over well-surveyed areas (in Europe) can be upward continued to gradients at GOCE altitude, serving as reference gradients for the GOCE data. Those reference gradients in the GOCE observation frame can then again be used for estimating (regional) error model parameters like scale factors. Here, the basic approach for the use of the terrestrial data is briefly described and the potential accuracy level of the computed reference gradients in the spectral domain presented.