01.04.2015 | Technical Paper | Ausgabe 4/2015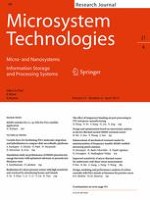 Quality factor measurement for MEMS resonator using time-domain amplitude decaying method
Zeitschrift:
Autoren:

Yuzhao Wang, Yong Xie, Tianlei Zhang, Guoqiang Wu, Gang Wang, Caijia Yu
Abstract
In this paper, a time-domain amplitude decaying (TDAD) method measuring the quality factor (
\(Q\)
) of micro-electro-mechanical system (MEMS) resonators is presented. The decaying amplitudes of the resonators are measured using a lock-in amplifier (LIA) and fitted exponentially to extract the
\(Q\)
. To suppress the capacitive feedthrough signal, the internal reference of the LIA is used to excite the resonators and the decaying amplitudes are detected with the first harmonic mode (2
\(f\)
).
\(Q\)
s of wafer level packaged MEMS resonators are measured using both the proposed TDAD method and the commonly used sweeping method. The relative error of the measured
\(Q\)
s using the two methods is
\(<\)
5.5 %. The TDAD method shows a better repeatability of 0.49 % compared to that of the sweeping method of 10.4 %. The consistency of the measurement under different ac exciting voltages is also evaluated.