05.01.2021 | SPECIAL FEATURE: ORIGINAL ARTICLE | Ausgabe 2/2021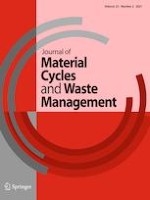 Quality improvement of mixed MSW drying using a pilot-scale solar greenhouse biodrying system
Zeitschrift:
Autoren:

Katitep Ngamket, Komsilp Wangyao, Suthum Patumsawad, Pipat Chaiwiwatworakul, Sirintornthep Towprayoon
Wichtige Hinweise
Publisher's Note
Springer Nature remains neutral with regard to jurisdictional claims in published maps and institutional affiliations.
Abstract
This paper addresses on improving the drying performance of high-moisture content (57.76%) municipal solid waste (MSW) using novel-design solar greenhouse biodrying (SGB) reactors under various operating conditions. Approximately, 4000 kg of MSW was loaded into 3 reactors with passive and active aeration to investigate the pilot-scale system's performance. We found that the pilot-scale reactor using passive aeration SGB, with a final moisture content of 30.51 ± 19.70%, does not meet requirements for cement production companies, although the system can maintain both the air temperature in the greenhouse and the highest energy-content gain in this study (6134.75 ± 245.30 kcal/kg). The active aeration method using 1.96 m3/kgMSW/day presented the highest performances for water removal, reducing water content from 57.76 ± 10.41% to 16.58 ± 10.88%, while the 0.78 m3/kgMSW/day method showed a final moisture content of 21.26 ± 12.60. Both conditions can raise the heating value above the user standard of 4500 kcal/kg. Nevertheless, the 1.96 m3/kgMSW/day method loses more carbon mass and yields a lower energy content than the other active aeration. We found that, with the pilot scale, an aeration rate of 0.78 m3/kgMSW/day showed good performance due to the high moisture content loss with and above the standard heating value. This condition can be implemented on a commercial scale.
Graphic abstract
×