13.06.2018 | Original | Ausgabe 5/2018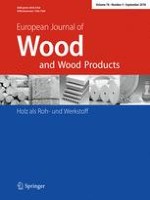 Quantitative image analysis of acoustic tomography in woods
Zeitschrift:
Autoren:

Jorge Renato Andrade Strobel, Marco Antonio Garcia de Carvalho, Raquel Gonçalves, Cinthya Bertoldo Pedroso, Mariana Nagle dos Reis, Paulo S. Martins
Wichtige Hinweise
Publisher's Note
Springer Nature remains neutral with regard to jurisdictional claims in published maps and institutional affiliations.
Abstract
The development of acoustic techniques for wood analysis through tomography has enabled the generation of images by means of nondestructive techniques. These images allow for the evaluation of the internal condition of wood trunks. This type of evaluation provides valuable information since the internal defects (e.g. holes) in the wood are difficult to identify—especially in its early stages of development. Whereas there is a substantial body of work that aims to improve these images by applying new interpolation and inspection techniques, the assessment of these techniques has traditionally been carried out via a bare visual analysis or inspection of the real wood trunk. In this work, an approach is proposed to quantitatively assess interpolation methods regarding their ability to correctly detect faults in the wood. This approach is based on a confusion matrix that allows for the computation of accuracy, reliability and recall. An experiment is presented using images from the cross-section of wood trunks generated by two interpolation methods applied for internal-hole detection: (1) an interpolation method using surrounding points and (2) the Ellipse Based Spatial Interpolation. The results demonstrated the effectiveness of the approach in quantitatively assessing and comparing these methods.