01.08.2014 | TASE 12 | Ausgabe 4/2014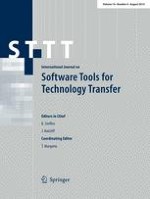 Quantitative modelling and analysis of a Chinese smart grid: a stochastic model checking case study
Autoren:

Ender Yüksel, Hanne Riis Nielson, Flemming Nielson, Huibiao Zhu, Heqing Huang
Wichtige Hinweise
This work was supported in part by the IDEA4CPS project granted by the Danish Research Foundation for Basic Research (No. DNRF86-10) and National Natural Science Foundation of China, and in part by MT-LAB, a VKR Centre of Excellence for the Modelling of Information Technology. Huibiao Zhu was supported by National High Technology Research and Development Program of China (No. 2012AA011205), National Natural Science Foundation of China (No. 61361136002 and No. 61321064), Shanghai Knowledge Service Platform Project (No. ZF1213) and Shanghai Minhang Talent Project.
Abstract
Cyber-physical systems integrate information and communication technology with the physical elements of a system, mainly for monitoring and controlling purposes. The conversion of traditional power grid into a
smart grid
, a fundamental example of a cyber-physical system, raises a number of issues that require novel methods and applications. One of the important issues in this context is the verification of certain quantitative properties of the system. In this paper, we consider a specific Chinese smart grid implementation as a case study and address the verification problem for performance and energy consumption. We employ stochastic model checking approach and present our modelling and analysis study using PRISM model checker.