02.02.2019 | ORIGINAL ARTICLE | Ausgabe 4/2019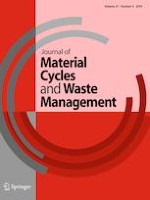 Quantitative phase analysis of fly ash of municipal solid waste by X-ray powder diffractometry/Rietveld refinement
Zeitschrift:
Autoren:

Atsushi Ohbuchi, Yuya Koike, Toshihiro Nakamura
Wichtige Hinweise
Publisher's Note
Springer Nature remains neutral with regard to jurisdictional claims in published maps and institutional affiliations.
Abstract
Six crystalline phases (anhydrite, calcite, gehlenite, halite, quartz, and sylvite) and the amorphous phase in fly ash of municipal solid waste (MSW) were quantified using Rietveld refinement of X-ray diffraction data. Corundum was used as an internal standard for the determination of amorphous phase. Gehlenite was synthesized by the solid-phase method to obtain the pure material for calibration standard. Quantitative values of 4.8, 5.1, 12.3, 9.3, 1.3, and 7.1 mass% for anhydrite, calcite, gehlenite, halite, quartz, and sylvite, respectively, were obtained by Rietveld refinement, in agreement with those obtained using the external standard and standard addition methods. Relative standard deviations (
n
 = 5) of each crystalline phase were 1.6–63%. Monthly variations of crystalline phases of MSW fly ash were observed over a year (2008–2009). High correlation (
R
 = 0.8068) was observed between the concentrations of halite and sylvite, which were derived from kitchen wastes such as vegetables and seasonings. Conspicuous concentrations of calcite and quartz were each observed once at June and December, respectively. Rietveld refinement was applicable as a quantitative method for the determination of MSW fly ash composition profile.