01.04.2021 | Ausgabe 4/2021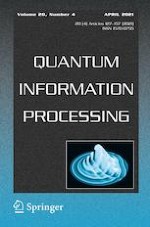 Quantum Bell states-based anonymous voting with anonymity trace
Zeitschrift:
Autoren:

Qingle Wang, Jiangshan Liu, Yuancheng Li, Chaohang Yu, Shijie Pan
Wichtige Hinweise
Publisher's Note
Springer Nature remains neutral with regard to jurisdictional claims in published maps and institutional affiliations.
Abstract
Anonymous voting is widely used in economic and social activities, whenever it requires to express opinions privately and fairly. In this paper, we consider the task of anonymous voting using quantum mechanics. Based on quantum Bell states, anonymous entanglement is established between each voter and a tallier; thus, employing the one-time pad technique, each voter can privately cast his/her vote to the tallier. The tallier provides a mechanism of opening and permuting the ordered votes of all voters in an anonymous manner. With the distribution of all counted votes, the voting results can be obtained through a simple calculation. By a private address index, each voter can anonymously trace his/her counted vote, leading to verifiability. Following the practical requirements, the quantum anonymous voting protocol satisfies privacy, non-reusability and verifiability at the same time. Under the ideal conditions, the security concerning some common attacks is given in detail, and the theoretical analysis states that this protocol is secure.