01.01.2015 | Ausgabe 1/2015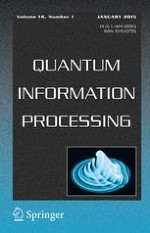 Quantum correlation evolution of GHZ and
\(W\)

states under noisy channels using ameliorated measurement-induced disturbance
Zeitschrift:
Autoren:

Pakhshan Espoukeh, Pouria Pedram
Abstract
We study quantum correlation of Greenberger–Horne–Zeilinger (GHZ) and
W
states under various noisy channels using measurement-induced disturbance approach and its optimized version. Although these inequivalent maximal entangled states represent the same quantum correlation in the absence of noise, it is shown that the
W
state is more robust than the GHZ state through most noisy channels. Also, using measurement-induced disturbance measure, we obtain the analytical relations for the time evolution of quantum correlations in terms of the noisy parameter
\(\kappa \)
and remove its overestimating quantum correlations upon implementing the ameliorated measurement-induced disturbance.