01.05.2019 | Ausgabe 5/2019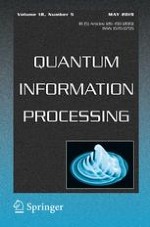 Quantum identity authentication in the orthogonal-state-encoding QKD system
Zeitschrift:
Autoren:

Bin Liu, Zhifeng Gao, Di Xiao, Wei Huang, Xingbin Liu, Bingjie Xu
Wichtige Hinweise
Publisher's Note
Springer Nature remains neutral with regard to jurisdictional claims in published maps and institutional affiliations.
Abstract
As is known, quantum key distribution could achieve information-theoretical security under several basic requirements, one of which is reliable identity authentications between the participants. Compared with classical identity authentication, quantum identity authentication (QIA) is considered to be more secure and more efficient to combine with quantum key distribution (QKD), and therefore, more and more scholars are involved in the study of QIA. During the last 3 decades, various types of QKD protocols have been proposed utilizing different kinds of quantum technologies. One of the most special QKD protocols is the orthogonal-state-encoding QKD protocol proposed by Goldenberg and Vaidman (Phys Rev Lett 75:1239–1243,
1995
), which is usually called GV95 protocol. Almost all of the QKD protocols employ nonorthogonal states to prevent and detect eavesdropping, and the most famous exception is GV95. In this paper, we present a QIA protocol based on the GV95 technology, which can be performed in a revised circuit of the GV95 protocol. And we also analyze the security of both Alice's and Bob's identities.