01.03.2015 | Ausgabe 3/2015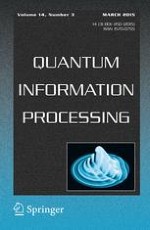 Quantum mechanics on phase space and teleportation
Zeitschrift:
Autoren:

Juba Messamah, Franklin E. Schroeck Jr., Mahmoud Hachemane, Abdallah Smida, Amel H. Hamici
Abstract
The formalism of quantum mechanics on phase space is used to describe the standard protocol of quantum teleportation with continuous variables in order to partially investigate the interplay between this formalism and quantum information. Instead of the Wigner quasi-probability distributions used in the standard protocol, we use positive definite true probability densities which account for unsharp measurements through a proper wave function representing a non-ideal quantum measuring device. This is based on a result of Schroeck and may be taken on any relativistic or nonrelativistic phase space. The obtained formula is similar to a known formula in quantum optics, but contains the effect of the measuring device. It has been applied in three cases. In the first case, the two measuring devices, corresponding to the two entangled parts shared by Alice and Bob, are not entangled and described by two identical Gaussian wave functions with respect to the Heisenberg group. They lead to a probability density identical to the
\(Q\)
function which is analyzed and compared with the Wigner formalism. A new expression of the teleportation fidelity
\(F\)
for a coherent state in terms of the quadrature variances is obtained. In the second case, these two measuring devices are entangled in a two-mode squeezed vacuum state. In the third case, two Gaussian states are combined in an entangled squeezed state. The overall observation is that the state of the measuring devices shared by Alice and Bob influences the fidelity of teleportation through their unsharpness and entanglement.