01.03.2021 | Ausgabe 3/2021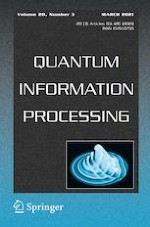 Quantum speedup dynamics process without non-Markovianity
Zeitschrift:
Autoren:

Ying-Jie Zhang, Xiang Lu, Hai-Feng Lang, Zhong-Xiao Man, Yun-Jie Xia, Heng Fan
Wichtige Hinweise
Publisher's Note
Springer Nature remains neutral with regard to jurisdictional claims in published maps and institutional affiliations.
Abstract
The Hamiltonian corrections induced by the action of coherent driving forces are often used to fight dissipative and decoherence mechanisms in experiments. For this reason, in the cases of two exactly solvable decoherence models, we propose a scheme for changing the quantum average speed of an open system by controlling an external unitary coherent driving Hamiltonian on the system. For the Markovian dynamics process, with a judicious choice of the coherent driving parameters, the tightness of quantum speed limit of the dynamics process can be weakened. That is to say, we may drive the open system to the quantum speedup evolution. And in the non-Markovian regime, the original quantum speedup dynamics may be brought to the greater degree of speedup by adding the coherent driving. Somewhat contrary to the previous speedup scenarios by the controllable non-Markovianity, the changes in the excited population and coherence caused by the coherent driving are the intrinsic physical reason for quantum speedup in our scheme.