01.08.2016 | Ausgabe 8/2016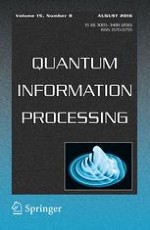 Quantum walking in curved spacetime
Zeitschrift:
Autoren:

Pablo Arrighi, Stefano Facchini, Marcelo Forets
Abstract
A discrete-time quantum walk (QW) is essentially a unitary operator driving the evolution of a single particle on the lattice. Some QWs admit a continuum limit, leading to familiar PDEs (e.g., the Dirac equation). In this paper, we study the continuum limit of a wide class of QWs and show that it leads to an entire class of PDEs, encompassing the Hamiltonian form of the massive Dirac equation in (
\(1+1\)
) curved spacetime. Therefore, a certain QW, which we make explicit, provides us with a unitary discrete toy model of a test particle in curved spacetime, in spite of the fixed background lattice. Mathematically, we have introduced two novel ingredients for taking the continuum limit of a QW, but which apply to any quantum cellular automata: encoding and grouping.