01.03.2015 | Ausgabe 3/2015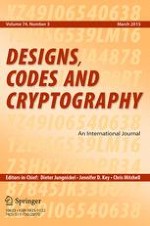 Quasi-abelian codes
Zeitschrift:
Autoren:

Somphong Jitman, San Ling
Wichtige Hinweise
Communicated by J. Wolfmann.
Abstract
We study
\(H\)
-quasi-abelian codes in
\(\mathbb F _q[G]\)
, where
\(H\le G\)
are abelian groups such that
\(\gcd (|H|,q)=1\)
. Such codes are generalizations of quasi-cyclic codes and can be viewed as linear codes over the group ring
\(\mathbb F _q[H]\)
. Using the Discrete Fourier Transform,
\(\mathbb F _q[H]\)
can be decomposed as a direct product of finite fields. This decomposition leads us to a structural characterization of quasi-abelian codes and their duals. Necessary and sufficient conditions for such codes to be self-dual are given together with the enumeration based on
\(q\)
-cyclotomic classes of
\(H\)
. In particular, when
\(H\)
is an elementary
\(p\)
-group, we characterize the
\(q\)
-cyclotomic classes of
\(H\)
and give an explicit formula for the number of self-dual
\(H\)
-quasi abelian codes. Analogous to 1-generator quasi-cyclic codes, we investigate the structural characterization and enumeration of 1-generator quasi-abelian codes. We show that the class of binary self-dual (strictly) quasi-abelian codes is asymptotically good. Finally, we present four strictly quasi-abelian codes and ten codes obtained by puncturing and shortening of these codes, whose minimum distances are better than the lower bound in Grassl's online table.