01.07.2013 | Ausgabe 1/2013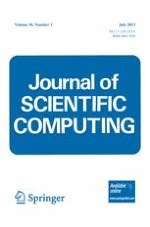 Quasi-Compact Finite Difference Schemes for Space Fractional Diffusion Equations
Zeitschrift:
Autoren:

Han Zhou, WenYi Tian, Weihua Deng
Abstract
In this paper, a compact difference operator, termed CWSGD, is designed to establish the quasi-compact finite difference schemes for approximating the space fractional diffusion equations in one and two dimensions. The method improves the spatial accuracy order of the weighted and shifted Grünwald difference (WSGD) scheme (Tian et al.,
arXiv:​1201.​5949
) from 2 to 3. The numerical stability and convergence with respect to the discrete
L
2
norm are theoretically analyzed. Numerical examples illustrate the effectiveness of the quasi-compact schemes and confirm the theoretical estimations.