01.08.2016 | Ausgabe 2/2016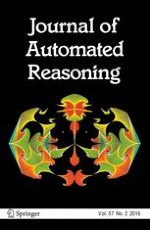 Quasi-decidability of a Fragment of the First-Order Theory of Real Numbers
Zeitschrift:
Autoren:

Peter Franek, Stefan Ratschan, Piotr Zgliczynski
Wichtige Hinweise
This is an extended and revised version of a paper that appeared in the proceedings of the 36th International Symposium on Mathematical Foundations of Computer Science [
18
]
Abstract
In this paper we consider a fragment of the first-order theory of the real numbers that includes systems of
n
equations in
n
variables, and for which all functions are computable in the sense that it is possible to compute arbitrarily close interval approximations. Even though this fragment is undecidable, we prove that—under the additional assumption of bounded domains—there is a (possibly non-terminating) algorithm for checking satisfiability such that (1) whenever it terminates, it computes a correct answer, and (2) it always terminates when the input is robust. A formula is robust, if its satisfiability does not change under small continuous perturbations. We also prove that it is not possible to generalize this result to the full first-order language—removing the restriction on the number of equations versus number of variables. As a basic tool for our algorithm we use the notion of degree from the field of topology.