12.06.2019 | Ausgabe 9/2019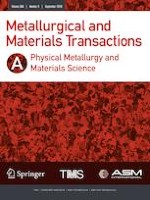 Quasi-Seeding Mechanism in Lamellae Alignment of TiAl Alloys During Directional Solidification
Zeitschrift:
Autoren:

Yujun Du, Jun Shen, Yilong Xiong, Qiudong Li, Hengzhi Fu
Wichtige Hinweise
Manuscript submitted October 12, 2018.
Publisher's Note
Springer Nature remains neutral with regard to jurisdictional claims in published maps and institutional affiliations.
Abstract
A novel quasi-seeding mechanism, in which the seed material needs to meet the following two requirements, was developed to align the lamellar microstructures of TiAl alloys during directional solidification. First, by controlling solidification condition, columnar grains within the quasi-seed ingot are solidified as the peritectic
α
phase rather than the primary
β
phase and thus the quasi-seed ingot with appropriate lamellae orientation is obtained. Second, the nucleation and growth of single
γ
grains are restricted when heating rate is sufficiently high and thus the high-temperature
α
-II grains that form upon heating have undergone the solid-phase transformation of
α
2
/
γ
→
α
/
γ
→
α
rather than
α
2
/
γ
→
γ
→
α
/
γ
→
α
. As a result, the high-temperature
α
-II grains have the basal planes parallel to the
α
2
/
γ
lamellae within the original quasi-seed ingot and the lamellar microstructure remains unchanged after the heat treatment. Based on the mechanism, a quasi-seed of Ti-47Al-2Nb-2Cr alloy, in which the nucleation and growth of the
γ
phase was restricted by a rapid heating procedure, was employed to align the lamellar microstructures of the same alloy during directional solidification at different growth velocities. The room-temperature tensile properties of the directionally solidified samples were measured and the results showed that the desired lamellar microstructure obtained at 10
μ
m/s had a tensile strength of 558 MPa and an elongation of 6.2 pct simultaneously. The fracture behaviors of the lamellar microstructures with different orientations were checked and the relevant mechanisms were discussed correspondingly.