2013 | OriginalPaper | Buchkapitel
15. Quaternary Ammonium Compounds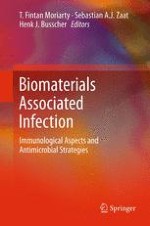 Erstes Kapitel lesen
Autor: J. A. Loontjens
Verlag: Springer New York
Abstract
The main cause of failure of biomedical implants is bacterial infections. Despite all efforts, it will never be possible to completely free operating theaters from bacteria, as human bodies contain already 1014 bacteria. Once on a surface, bacteria start proliferating, while protecting themselves with a slime layer against the immune system and administered antibiotics. A promising route to prevent or at least reduce bacterial infections caused by implants is by making surfaces of the devices antibacterial. One way to eradicate bacteria on implants is by contact killing.
Quaternary ammonium compounds (quats) are very potent biocides. The generally accepted mechanism is that quats destabilize the cytoplasmic membrane, which leads to leakage and eventually to cell death. Unfortunately, a similar mechanism provokes cytotoxicity. Fortunately, it is feasible to optimize the balance between biocidal activity and cytotoxicity by adapting the chemical structures.
Low molecular weight quats are effective, but leachable and thus only temporarily effective. Moreover, leachable quats will be transported throughout the whole body and may cause cell lysis. A more sustainable approach is to immobilize quats on surfaces. Although this development is still in an early stage in the last decade much progress has been made. There is a vast amount of literature describing successful
in vitro
experiments, and a number of papers have shown antibacterial activity in vivo.