31.05.2021 | Ausgabe 2/2021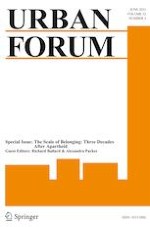 Race, Conflict and Ownership of a "Coloured Ghetto": Analysing Scale, Factionalism and Belonging in Davidsonville, South Africa
Zeitschrift:
Autor:

Luke Spiropoulos
Wichtige Hinweise
A colonial and apartheid government race category for people who were of broadly "mixed-race" descent (including those of Khoi-San, "Malay" slave and other descents not fitting neatly into existing government racial categories). Over time an ethno-cultural identity based on shared heritage, geographies and, often, the use of dialects of the Afrikaans language.
Publisher's Note
Springer Nature remains neutral with regard to jurisdictional claims in published maps and institutional affiliations.
Abstract
In 2015, Davidsonville, a small "coloured" township on the West Rand of Johannesburg, South Africa, drew a great deal of national media attention to the area for the first time in many years amid accusations of racism. Members of the community had forcibly shut the local primary school, demanding the removal Black African principal and deputy. Closer contextualised analysis of the crisis revealed competing narratives about its nature and origins and the reasons for the mobilisation of race to aid the protest action. I argue that the central disjuncture between these narratives is the scale at which the analysis of the situation has to take place for each actor — a hyper-local scale of analysis amongst residents and a national scale amongst the broader public and administrative scales amongst government officials. I argue further that analysis of the local-scale narrative formation can help us to explain why and how local groups mobilise and demobilise racial identities to fight internal and external battles over ideas of the local and the resources associated with them.