01.12.2016 | ARTICLES | Ausgabe 3-4/2016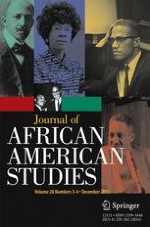 Racialized Casteism: Exposing the Relationship Between Race, Caste, and Colorism Through the Experiences of Africana People in India and Sri Lanka
Zeitschrift:
Autor:

Sureshi M. Jayawardene
Abstract
Contemporary South Asian sociality is marked by signifiers of race, caste, ethnicity, and colorism. Examining the particular social inequalities and marginalization experienced by Africana people in these societies uncovers the dialectical interrelationship between caste, race, and colorism. This yields an understanding of how race and its more trenchant inflection, racism, function in South Asia. Interpreting implications for Africana politics in South Asian societies requires a theorization of these categories.
Racialized casteism
is an analytic that reveals the relationship between race, caste, and colorism in South Asia and highlights how Africana presence indisputably raises the significance of race thereby intensifying the outcomes faced by Siddis and Kaffirs.