18.07.2017 | Original Contribution | Ausgabe 10/2017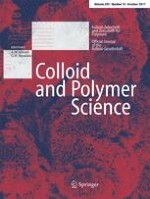 Radical polymerization of capillary bridges between micron-sized particles in liquid bulk phase as a low-temperature route to produce porous solid materials
Zeitschrift:
Autoren:

Katharina Hauf, Kamran Riazi, Norbert Willenbacher, Erin Koos
Wichtige Hinweise
Electronic supplementary material
The online version of this article (doi:
10.​1007/​s00396-017-4149-y
) contains supplementary material, which is available to authorized users.
Abstract
We present a generic and versatile low-temperature route to produce macroporous bodies with porosity and pore size distribution that are adjustable in a wide range. Capillary suspensions, where the minor fluid is a monomer, are used as precursors. The monomer is preferentially located between the particles, creating capillary bridges, resulting in a strong, percolating network. Thermally induced polymerization of these bridges at temperatures below 100 °C for less than 5 h and subsequent removal of the bulk fluid yields macroscopic, self-supporting solid bodies with high porosity. This process is demonstrated using methyl methacrylate and hydroxyethylmethacrlyate with glass particles as a model system. The produced poly(methyl methacrylate) (PMMA) had a molecular weight of about 500,000 g/mol and dispersity about three. Application specific porous bodies, including PMMA particles connected by PMMA bridges, micron-sized capsules containing phase change material with high inner surface, and porous graphite membranes with high electrical conductivity, are also shown.