2020 | OriginalPaper | Buchkapitel
Railway Road Bridge in Novi Sad – Steel Tied Network Arches Over the Danube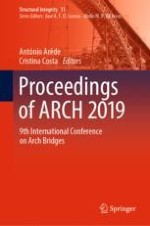 Erstes Kapitel lesen
Autoren: Aleksandar Bojovic, Antonio Mora Munoz
Abstract
The Railway road bridge in Novi Sad is situated on the international railroad Belgrade-Budapest. The bridge is designed for two railway tracks (with design speed of 160 km/h), two road lanes and two footpaths. The bridge structure consists of four structures: two approach composite bridges at the banks and two steel tied network arch bridges over the river and transition structure between two arches. The spans are 27.0 + 177.0 + 3.0 + 219.0 + 48.0 m, totally 474.0 m in length. The rises of arches are 34.0 m and 42.0 m respectively. The width of the bridge is 31.44 m. The arches and ties, as well as the girders of the approach spans, are steel box girders. The decks of all bridge structures are the composite reinforced concrete slabs with thickness of 300 mm, locally 400 mm.
The launching was very complex, in both analysis and construction. The arch bridges were fully assembled on the banks and launched by skids over the bank and by pontoons over the river, to the final position on piers. The bridge was designed fully according to European standards and additionally – according to requirements of Deutsche Bahn Richtlinie 804, Edition 2003.
The bridge was opened to traffic in 2018.