01.08.2013 | Ausgabe 1/2013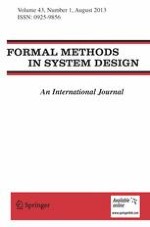 Ranking function synthesis for bit-vector relations
Zeitschrift:
Autoren:

Byron Cook, Daniel Kroening, Philipp Rümmer, Christoph M. Wintersteiger
Wichtige Hinweise
This is an extended version of our TACAS 2010 paper [
11
]. Supported by the Swiss National Science Foundation grant no. 200021-111687, by the Engineering and Physical Sciences Research Council (EPSRC) under grant no. EP/G026254/1, the EU FP7 STREP MOGENTES, the ARTEMIS CESAR project, and ERC project 280053.
Abstract
Ranking function synthesis is a key component of modern termination provers for imperative programs. While it is well-known how to generate linear ranking functions for relations over (mathematical) integers or rationals, efficient synthesis of ranking functions for machine-level integers (bit-vectors) is an open problem. This is particularly relevant for the verification of low-level code. We propose several novel algorithms to generate ranking functions for relations over machine integers: a complete method based on a reduction to Presburger arithmetic, and a template-matching approach for predefined classes of ranking functions based on reduction to SAT- and QBF-solving. The utility of our algorithms is demonstrated on examples drawn from Windows device drivers.