01.02.2020 | Ausgabe 2/2020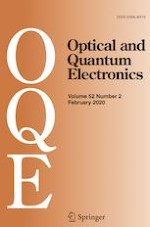 Rapid analysis of marble treatments by laser induced fluorescence
Zeitschrift:
Autoren:

V. Spizzichino, L. Bertani, L. Caneve, M. F. Caso
Wichtige Hinweise
This article is part of the Topical Collection on Fundamentals of Laser Assisted Micro- and Nanotechnologies.
Guest edited by Tigran Vartanyan, Vadim Veiko, Andrey Belikov and Eugene Avrutin.
Publisher's Note
Springer Nature remains neutral with regard to jurisdictional claims in published maps and institutional affiliations.
Abstract
Nowadays scientific study of Cultural Heritage accompanies most of the time historical artistic evaluation and an assessment of the conservation state by humanistic experts and restorers. Several laboratory methods with high sensitivity are well established (ICP-MS, FTIR,…), and many methods for in situ rough characterization of large surface are widely diffused (thermovision, UV photography,…), in addition to instrumentation for punctual analysis to be applied also in field (XRF, colorimetry,…). However, the request for systems that can provide rapid detailed characterization on large surface in any storage conditions is still a hot topic. This is combined with the ever-increasing demand for digital material for documentation, fruition and study. Laser-based systems, and in particular Laser Induced Fluorescence (LIF), Laser Induced Breakdown Spectroscopy and Raman spectroscopy, due to the characteristics of these sources and the detectors to which they can be coupled, respond well to these needs. The TECFIS-DIM (Diagnostic and Metrology) Laboratory of the ENEA center of Frascati (Rome, Italy) in the last decade has put an effort to develop more and more compact and efficient laser systems for in situ material characterization on cultural heritage surfaces. Here two prototypal LIF systems have been used to characterize marble surfaces treated with ancient and modern materials and a rapid recognition and mapping method has been developed and tested thanks to the individuation of discriminant spectral features. Results are reported on test samples created in lab with known substances and in situ on real artworks.