2019 | OriginalPaper | Buchkapitel
Rapid Assessment of Customer Marketplace in Disaster Settings through Machine Learning, Geospatial Information, and Social Media Text Mining: An Abstract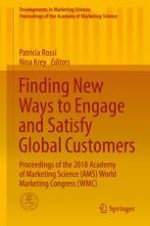 Erstes Kapitel lesen
Autoren: Rajiv Garg, Patrick Brockett, Linda L. Golden, Yuxin Zhang
Abstract
In disasters there is a need to rapidly assess and predict impact area boundaries (for staging emergency relief and product distribution dynamics), delineate and communicate with the affected public (for coordinated disaster assistance such as evacuation, search and rescue, prioritization of manpower and equipment usage, etc.), and provide cost estimation for potential use in government-to-government (G2G) marketing (Golden and Peterson 2018) soliciting relief and assistance funds from federal and/or state authorities. This rapid assessment needs to occur as the disaster unfolds and immediately after the disaster, even while data is scarce and emerging. Marketing communication techniques and modern information technology methods (machine learning, geospatial information, and social media text mining) can help with these tasks.
This paper shows how to use predictive modeling and geospatial interpolation along with machine learning for pre-disaster community planning, for risk management actions during the disaster, and for assisting in creating informed structure regulations to assist in disaster resilience. As disaster response is an ongoing process, the technique provides a framework of spatial level loss estimation using limited evolving data and iteratively improves estimation as more data becomes available.
Predictive and probabilistic modeling starts with historical data (compiled before the event) including data such as damage to a specific building type as a function of water depth or wind speed. Topography of the land involved is assessed using satellite and LIDAR data and publically available flood maps created by FEMA for the National Flood Insurance Program and topographic maps produced in the US Topo project of the National Geospatial Program of the US Geological Survey (USGS). These baseline GIS datasets are overlaid with GIS-located data on building type and construction materials and usage scraped from county tax assessor websites. After buildings are GIS mapped, the FEMA's HAZUS algorithm is used to estimate damages to each building as a function of projected area water depth. The water depth projection is determined by regression using wind speed and recurrence interval (i.e., Hurricane Harvey in Texas in 2017 was a 1 in 1,000 year event). As data becomes gradually available, we iteratively update estimates for areas using spatial interpolation. This informs communication modes of contact.
To better assess impact area and population at risk with limited data, machine learning is applied. In disasters people often are active on mobile phones. GIS located text mining messages reveals who needs what and where, directs rescue, and improve damage estimates when data is sparse, and allow target messaging to vulnerable populations (Lazreg et al. 2016).
References Available Upon Request