26.06.2019 | Ausgabe 14/2019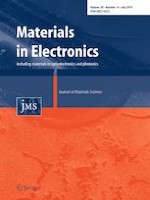 Rapid fabrication and improved electrical properties of CaCu3Ti4O12 ceramics by sol–gel and spark plasma sintering techniques
Autoren:

Pu Mao, Jiping Wang, Lixue Zhang, Shujuan Liu, Yingying Zhao, Qinzhao Sun
Wichtige Hinweise
Publisher's Note
Springer Nature remains neutral with regard to jurisdictional claims in published maps and institutional affiliations.
Abstract
CaCu
3
Ti
4
O
12
(CCTO) ceramics with smaller grain size usually show a low dielectric constant by using the conventional sintering method. In this work, the pure CCTO ceramics with smaller grain size prepared by the spark plasma sintering method (SPS) present the giant dielectric constant (
ε
′) over a wide temperature range. The dense CCTO ceramics have been rapidly fabricated by a sol–gel process and the SPS method at different sintering temperatures. The XRD patterns indicate a single CCTO phase with cubic perovskite structure in SPS-CCTO ceramics. The SEM images demonstrate that the average grain size of the SPS-CCTO ceramics increases from about 2.23(± 1.56) μm to 4.68(± 2.45) μm with the increases of the SPS sintering temperature from 800 to 900 °C. The obvious electrically heterogeneous characteristics in these SPS-CCTO ceramics are affirmed by the complex impedance spectroscopy analysis. The highest dielectric constant of 1.58 × 10
4
at 10
3
Hz is found in SPS-CCTO3 (900 °C) ceramics, and the temperature coefficients of the dielectric constant Δ
ε
′ in SPS-CCTO1 (800 °C) and SPS-CCTO2 (850 °C) ceramics with the high
ε
′ values are less than ± 15% (Δ
ε
′ < ±15%) over a temperature range of − 30 to 80 °C; the high dielectric constant is due to the phenomenon of R
g
 ≪ R
gb
based on the internal barrier layer capacitance (IBLC) effect. The larger nonlinear coefficient of 9.07, as well as the enhanced breakdown field of 3257 V/cm are achieved in SPS-CCTO1 ceramics, which is attributed to the increased grain boundary resistance and the Schottky barrier at grain boundary regions. These results indicate that the SPS method is an effective way to control the grain size and improve the electrical properties of the CCTO ceramics for energy storage application.