01.08.2013 | Ausgabe 4/2013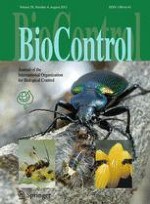 Rapid molecular identification of five species of
Trichogramma

occurring in the Canary Islands with notes on their distribution in banana groves
Zeitschrift:
Autoren:

Modesto del Pino, Paul Rugman-Jones, Estrella Hernández-Suárez, Andrew Polaszek, Richard Stouthamer
Wichtige Hinweise
Handling Editor: Torsten Meiners
Abstract
Trichogramma
egg parasitoids (Hymenoptera: Trichogrammatidae) have been identified as the most important natural enemies of the golden twin-spot moth,
Chrysodeixis chalcites
(Esper, 1789) (Lepidoptera: Noctuidae), in banana crops grown in the Canary Islands. However, accurate identification of the
Trichogramma
spp. involved is complicated by their small size (<1 mm) and a general paucity of diagnostic morphological characters. Molecular identification, based on differences in DNA sequences, is commonly employed to identify
Trichogramma
spp., but it results in high costs associated with sequencing, and therefore may not be practical for studies aimed at surveying the distribution of species. Here, we present a simple, quick and accurate method to identify the five species of
Trichogramma
commonly associated with
C. chalcites
in the Canary Islands:
T. achaeae
Nagaraja and Nagarkatti,
T. bourarachae
Pintureau and Babault,
T. euproctidis
(Girault),
T. evanescens
Westwood and
T.
sp. nr.
brassicae
. This method is based on amplification of ribosomal DNA, using the polymerase chain reaction (PCR) with multiplexed, species-specific primers.