01.08.2016 | Ausgabe 8/2016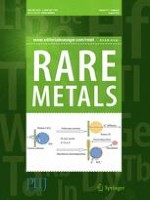 Rapidly counting atomic planes of ultra-thin MoSe2 nanosheets (1 ≤
n

≤ 4) on SiO2/Si substrate
Zeitschrift:
Autoren:

Yi-Ping Wang, Hui-Jun Zhou, Gui-Hua Zhao, Tian-Long Xia, Lei Wang, Le Wang, Li-Yuan Zhang
Abstract
The optical, thermal and electrical properties of ultra-thin two-dimensional (2D) crystal materials are highly related to their thickness. Therefore, identifying the atomic planes of few-layer crystal materials rapidly is crucial to fundamental study. Here, a simple technique was demonstrated based on optical contrast for counting atomic planes (
n
) of few-layer MoSe
2
on SiO
2
/Si substrates. It is found that the optical contrast of single-layer MoSe
2
depends on light wavelength and thickness of SiO
2
on Si substrate. The data calculated based on a Fresnel law-based model as well as atomic force microscopy (AFM) measurements fit well with the values measured by spectroscopic ellipsometer. Furthermore, the calculated and measured contrasts were integral and plotted, which can be used to determine the MoSe
2
atomic planes (1 ≤
n
≤ 4) accurately and rapidly.
Graphical Abstract
The optical contrast of thin-layer (1 ≤
n
≤ 4) MoSe
2
sample was calculated by Fresnel's law, and the contrast was measured by OM image. By combining these two group data, a function of layer numbers and contrast was developed:
C
(contrast) = 0.07
N
+ 0.177. This proves that contrast is linear to layer numbers of MoSe
2
when layer number is less than 4.
×