2006 | OriginalPaper | Buchkapitel
Rational strain measures - The implicit corotational method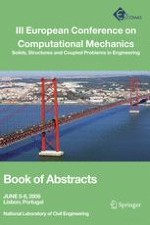 Erstes Kapitel lesen
Autoren: G. Garcea, A. Madeo
Verlag: Springer Netherlands
The nonlinear analysis of slender structures undergoing large displacements-small strains requires a proper description of the kinematic strain- displacement relationship to define a
rational
strain measure. In particular the strain measure must be unaffected by finite rigid body motions, that is it must be objective. Rational strain measures for structural models are not usually available or are too complex to be used in a FEM context, while the
technical models
which are usually adopted do not satisfy the requirements for objectivity.
A simple method, called
implicit corotational
, to obtain rational strain measures is proposed. The starting point is the corotational idea [
1
] which is now, following Biot [
2
], applied at the continuum level. The body is thought of as subdivided in finite parts, each one with a corotational frame that follows the rigid motion of the part. In the corotational frame a linearized kinematic and a linear strain measure may be used in this way. The strain measures become then more accurate with a reduction in the part size. Furthermore it becomes exact by an appropriate
limit process
. The final results is a rational strain measure.
As the displacement field in the corotational reference is infinitesimal, linearized kinematical models for beams, plates and shells can usefully be employed. Since linearized models are always available even for complex structural models (plates or shells) it is easy to obtain the corresponding rational strain measures using this approach.
The correctness of the strain measures obtained for 3D beams and thin plates is clear when they are compared with those available in literature [
3
,
4
]. Numerical analysis are performed using Koiter's asymptotic approach [
5
]. In this context, which is particularly sensitive to the exactness of the strain measures, the accuracy of the results can be seen.