01.08.2014 | Report | Ausgabe 5/2014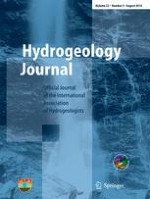 Re-evaluating the US Geological Survey's pumping tests (1967) in the Punjab region of Pakistan for use in groundwater studies
Zeitschrift:
Autoren:

N. Alam, T. N. Olsthoorn
Abstract
In 1967, the US Geological Survey (USGS) published the results of 141 pumping tests carried out throughout the Pakistani Punjab to establish representative hydraulic parameters of its large aquifer. Many authors have since concluded that the USGS had over-estimated the horizontal hydraulic conductivity (
k
r
) by 25–100 %, leaving vertical anisotropy and aquifer depth unresolved. No test wells have ever been drilled below 450 m to reach the base of the aquifer, although petroleum explorations mention depths between 1,500 and 4,500 m. After comparison and re-evaluation of all related papers, this study concludes that the USGS interpretation was correct, that its hydraulic values still stand without change, and that the USGS's applied distance drawdown interpretation is valid to prevent influence of partial penetration on the results. This study also uniquely resolved vertical anisotropy and aquifer thickness by using early- and late-time drawdowns separately and proper scaling of the coordinates, which has often been omitted. With appropriate scaling, all interpretations match the data. The representative hydraulic aquifer values are:
k
r
 = 65 m/d, vertical anisotropy
k
r
/
k
z
 = 25 and aquifer depth 500–1,500 m. The conclusion is that these values can be used, at least as first estimates, for groundwater studies in the Pakistani Punjab.