2016 | OriginalPaper | Buchkapitel
Re-thinking Estuarine Ecosystem Governance in the WIO Region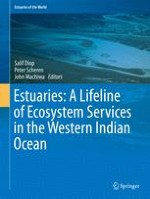 Erstes Kapitel lesen
Autor: Ph.D. Akunga Momanyi
Abstract
It is undisputable that estuarine ecosystems are a vitally important component of the rich environmental and cultural heritage of the Western Indian Ocean (WIO). Estuaries are extremely important in providing cultural, provisioning and regulatory services.
There are a myriad of governance frameworks and structures at the global, regional, national and even local levels that affect the WIO region: generally on coastal and marine environmental protection, and less so on estuaries as such. There are remarkable examples at the regional level, including the 1987 Zambezi River System Agreement and its SADC Protocol and the Zambezi River Commission which together "represent the most ambitious approach to environmental protection of river basins in the developing world," and "which exemplify the potential of common management in addressing environmental problems." Other examples include the Inkomati River Basin and the Limpopo River Basin frameworks. It is apparent that regional river basin frameworks treat estuaries as part of international water courses or river basin systems.
As the case studies from Kenya, Mozambique and South Africa have demonstrated, the governance and institutional setting for coastal and marine environmental protection, including estuarine ecosystems, is quite robust. All the three countries have constitutional, legislative and policy frameworks that broadly address matters related to coastal and marine environmental protection generally, albeit with lack of specificity on estuarine ecosystem governance, with the remarkable exception of South Africa's Integrated Coastal Management Act No 24 of 2008 which dedicates its Chapter 4 to estuaries. In this regard, South Africa provides a model worthy of emulation across the WIO region.
However, it is apparent from this study that the various international and national legal, institutional and policy frameworks concerning the governance of estuarine ecosystems in the region are generally inadequate, uncoordinated and weak. This scenario poses threats and challenges to the estuarine ecosystems necessitating a rethinking of the frameworks with a view to reforms. The key threats and challenges include: land-based and sea-based sources and activities causing pollution and degradation, policy and legislative inadequacies, limited institutional capacities, inadequate awareness, inadequate financial resources and mechanisms, as well as poor knowledge management, and the sheer complexity of some of the regimes established. On the positive side, opportunities include better understanding of the various causes and impacts of pollution and degradation of the coastal and marine environment as borne by the numerous scientific and technical studies; promising climate change regulation and mitigation interventions; and better legal, policy and institutional frameworks which emphasize integration, ecosystem or basin wide approaches and sustainable development.
Key recommendations towards better protection of estuarine ecosystems include further studies and reviews on estuarine ecosystems and their complex interactions with other ecosystems and their governance arrangements particularly in the context of land-sea interaction. Others include reviews of relevant international and national legal and other regulatory regimes to address better specificity on ecosystem governance.