2013 | OriginalPaper | Buchkapitel
5. Reaching the 7th Millennium Development Goals (MDG) on Environmental Sustainability: The South Asian Response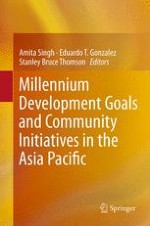 Erstes Kapitel lesen
Autor: Suman Sharma
Verlag: Springer India
Abstract
Environmental crisis can block all progress and development which the world has achieved so far. Realising this, the need for environmental sustainability MDG. The international community in a feeble attempt to respond to the crises facing humankind and Mother Earth adopted a Millennium Declaration under the auspices of the United Nations in the year 2000 and set for itself a very ambitious 7th Millennium Development Goals (MDGs) to be achieved by 2015. Planet Earth is facing a multifaceted crisis of unprecedented proportions. This crisis is not only an existential threat to humankind but also to all life forms and environment of the planet. The fast pace of consumption of resources, particularly of the nonrenewable kind, and exclusion of large mass of human population from the ambit of 'progress and development' has created inequity and disequilibrium in nature and among human society. This inequity and disequilibrium in turn has created the crises being faced by Mother Earth and its inhabitants.
The South Asian community under the aegis of regional cooperation grouping, SAARC, 4 years after the Millennium Declaration, recommitted themselves to the goals of MDGs by declaring their own South Asian Development Goals (SDGs). The SDGs echoing the goals of MDGs were organised into four broad categories of livelihood, health, education and environment. The United Nations Millennium Development Goal 7 pronounced its objective to integrate the principles of sustainable development into country policies and programmes and reverse the loss of environmental resources. The environment SDG specifies its goals to achieve acceptable levels of forest cover, water and soil quality, air quality, conservation of biodiversity, wet land conservation and ban on dumping of hazardous waste including radioactive waste.
This chapter attempts to examine and analyse various initiatives taken by SAARC on the threat of climate change to a sustainable environment in the context of global negotiations on this subject and emerging new concept of human security distinct from traditional concept of security. The new paradigm of human security perceives security as freedom from danger, fear, want and deprivation.