15.05.2019 | Original Research | Ausgabe 9/2019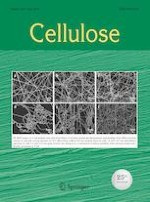 Reactive dye/poly(styrene-co-butyl acrylate-co-trimethyl(vinylbenzyl) ammonium chloride) nanospheres with high coloration performance for cleaner dyeing of cotton fabrics
Zeitschrift:
Autoren:

Kuanjun Fang, Ruyi Xie, Xiuming Liu, Gaojie Zhao, Dongmei Han, Weichao Chen, Zhen Shi, Longyun Hao, Yuqing Cai
Wichtige Hinweise
Kuanjun Fang and Ruyi Xie have contributed equally to this work.
Publisher's Note
Springer Nature remains neutral with regard to jurisdictional claims in published maps and institutional affiliations.
Abstract
The low utilization of dyestuff in textile coloration leads to serious environmental pollution and wasting of resources. Dye/polymer nanospheres have high absorbing, reflecting and scattering light properties due to the large specific surface area, the regular shape, and the uniform size. In the present study, we report the reactive dye/poly(styrene-butyl acrylate-trimethyl ammonium chloride) composite nanosphere as a highly efficient colorant for cationic cotton fabrics. The dye contents of the four colored nanospheres can reach to 217–404 mg/g. The hydration diameters of the composite nanospheres are 83–101 nm for four different reactive dyes. They have the negative zeta potentials, approximately − 25.3 to − 37.6 mV. The reactive dye/copolymer nanospheres exhibit much more powerful coloration ability for cotton fabrics and higher dye utilization than the ordinary reactive dyes. The color depths of cotton fabrics dyed with colored nanospheres are 2.8, 4.9, 10.6 and 4.2 times of the values of the corresponding dye colored samples. The dye/copolymer nanospheres have much larger color gamut than the ordinary dyes. The color durability and levelness of the dye/copolymer nanospheres on cotton fibers are good enough for practical applications. What's more important is that the residual dye/copolymer nanospheres in the dye bath can be reused in the next dyeing process. This novel nanosphere dyeing method does not only save the colorants but also avoid the discharging of colored sewage.
Graphical abstract
The reactive dye/poly(St-BA-VBT) nanospheres were successfully fabricated by adding the cationic poly(St-BA-VBT) nanospheres dispersions into reactive dye solutions. This article offered a novel dyeing method for cotton fabrics using dye/poly(St-BA-VBT) nanospheres. These colored nanospheres can endow the cotton fabrics with good color performance and avoid the discharging of colored waste water, which provide a green way for textile coloration.
×