01.06.2008 | Ausgabe 6/2008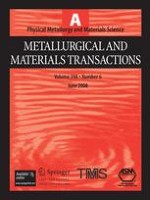 Reactive Wetting of an Iron-Base Superalloy MSA2020 and 316L Stainless Steel by Molten Zinc-Aluminum Alloy
Zeitschrift:
Autoren:

Jing Xu, Xingbo Liu, Mark A. Bright, James G. Hemrick, Vinod Sikka, Ever Barbero
Wichtige Hinweise
Manuscript submitted August 29, 2007.
Abstract
The reactive wetting behaviors of MSA2020, an Fe-based superalloy, and 316L stainless steel in contact with a molten Zn-Al alloy were investigated by the sessile drop method. This investigation led to the following findings. (1) 316L not only suffered considerable wetting, but also reacted with the molten Zn-Al alloy at a higher rate than MSA2020. (2) The contact angle of MSA2020 wet by the molten Zn-Al alloy dropped to an acute angle when the temperature was increased to 500 °C. (3) The surface reaction was found to initiate even though the liquid droplet and substrate were observed as nonwetting (contact angle larger than 90 deg). (4) The reaction mechanisms were identified in three stages. Initially, the Al diffused into the substrate to form an Fe-aluminide layer, which acted as the reaction front. Next, the reaction front penetrated the substrate through inward diffusion of Al. Finally, Zn-rich zones formed behind the reaction front as a result of Al depletion. (5) The alloying constituents (W, Mo, and Cr) in MSA2020 stably segregating on the surface reduced the wettability by molten Zn-Al by covering the reactive sites on the solid-liquid interface.